When you can't decide whether to date casually or engage in a long-term relationship, finding a suitable online dating site can be tricky. But read my LavaLife.com review to discover a site that brings you the best of both worlds – and much more than this.
Discovering Lava Life has been a sort of revelation. Although I'm happily married now, I admit that back in the days when I was looking, this online dating site would have probably changed my life. While the vast majority of the dating sites out there address only a certain category of users – be it singles interested in marriage, youngsters interested in hookups or married couples looking to spice up their romantic life – Lava Life brings a breath of fresh air.
On this platform, everyone is welcome. It doesn't matter if you want to find the man of your life or just a one-night stand. It doesn't even matter if the man of your life is actually a woman. Lava Life welcomes members from all walks of life, of all orientations, and above all looking for all kinds of relationships, from friendship to romance.
This unique approach makes LavaLife.com one of the most engaging online dating sites. Its unique features which I'll detail below make the platform a competitive player in an overwhelmed market and some users even state that Lava Life is better than the most famous mainstream websites.
Yet, this doesn't mean Lava Life is for all. Here are a few things to consider before creating an account.
Things To Consider Before Singing Up To LavaLife.com
LavaLife.com is one of the biggest players in the online dating market. It boasts a huge user pool and active members are majorly located in the US, Canada, and Australia. Signing up to the platform is easy and there are high chances of finding interesting matches here, yet the platform isn't suitable for all users.
A huge user pool may seem like a good thing at first and it majorly is for men. However, if you're a woman less versed in online dating, the number of messages and the attention received as a new member can be overwhelming.
Starting on a smaller site could be a better solution if you're not yet too confident in engaging in online communication, as it will be easier to select your matches.
Another thing that could discourage members is the possibility of creating more than one profile with the same account. There is a good explanation for this peculiarity but inexperienced members might find it confusing.
If you're not eager to share too much personal information, you might also want to look elsewhere. Lava Life doesn't oblige you to share private data but it does require you to upload a profile photo and verify your email before engaging in communication.
That said, LavaLife.com is a unique site to consider if you're versatile about your dating game or just want to find your Mr. Right as quickly as possible.
What Is LavaLife.com?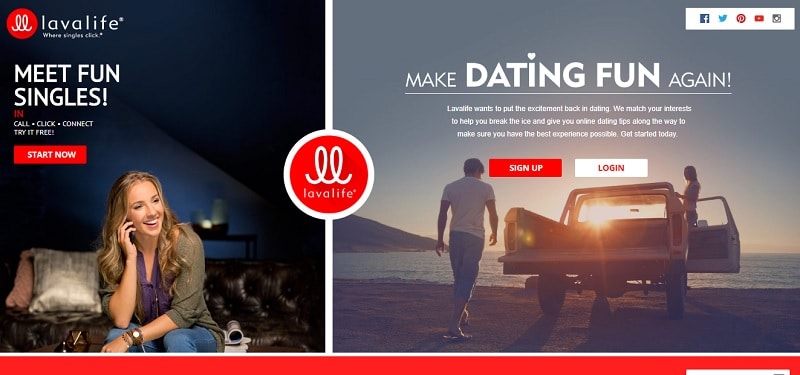 LavaLife.com is an online dating site uniquely approaching dating. The site isn't new yet it's less famous than mainstream competitors such as Match.com, eHarmony or Plenty of Fish. Nonetheless, this platform stands out thanks to its peculiar features.
Lava Life started to operate in the dating service industry in 1987, in an era when the internet wasn't even a thing. The original phone dating service transitioned to the online medium 10 years later and established itself as one of the first and greatest players.
In 2001, the service was almost completely revamped to respond to the changing needs of users. That's when the platform introduced its unique concept that evolved to what LavaLife.com is today.
What differentiates this platform from all others is the interesting approach to online dating. Like many dating sites, the platform lets you choose what type of dating you're interested in. There are five options to choose from and the site will create yourself a profile for the specific category you've selected.
Upon registration, you'll be able to browse and see profiles only from that specific category, and this exponentially increases your chances of finding a match who shares similar relationship goals and interests.
But that's not it. If you want to sneak peek in the other categories as well, or if you'd like to hookup while looking for your better half, you can create a profile in each category, all from the same user account. It's up to you to change the username or not, and you'll get access to the whole user pool.
What's even more awesome is that many of the site's features are unlimited and free.
Lava Life Advantages
Unique online dating approach. Regardless of what type of relationship you look for, Lava Life gives you the possibility to search and connect with users interested exclusively in that type of dating.
Quick registration. Setting up an account on Lava Life is super-easy and requires less than five minutes. Just fill in the form on the homepage or choose to sign up via Facebook for an even quicker registration.
Huge user pool. Lava Life counts hundreds of users in all categories and finding someone to talk to at any given time is super-easy.
Browsing. Free members enjoy interesting features on LavaLife.com, including unlimited browsing and profile viewing, unlimited flirtation and unlimited reply to received messages.
Free trial. Most online dating sites offer limited access to site's functionalities to free members, and so does Lava Life. What's different is that Lava Life lets you taste the benefits of full membership via a 7-days free trial that begins upon registration.
Lava Life Disadvantages
Like on most online dating sites, Lava Life limits communication unless you pay for a premium subscription. Mercifully, it anyway allows you to replay to the received messages, which is beyond cool.
You won't be able to flirts or messages to anyone unless you verify your email address.
Lava Life doesn't use any matchmaking system to match you with other users. You'll have to manually browse through profiles and read bios to assess your potential compatibility with the other members.
LavaLife.com Features
By now you know what makes LavaLife.com unique, but you might be wondering which are the main features of the site. Read on to find out what I enjoyed the most during my trial months on the platform.
Account Versatility
Undoubtedly, LavaLife.com is one of the platforms with the most versatile user account. I already mentioned you can choose any category upon registration, and there are five of them. You can choose between Casual Dates, Relationship, Long Term, Friends, and Hookup.
As you can see, it doesn't matter what your current relationship goals are. Just choose your preferred type of relationship and start looking for matches.
But if in the middle of the things you get curious on what's in the other categories, know that your unique account allows you to just set up a different profile for a different category. You can make one, two, or even five profiles and switch between them freely.
While some inexperienced users might find this confusing, I actually find this feature outstanding.
Because let's be honest ladies, sometimes long term relationships are just exhausting and sometimes a one night stand is simply refreshing and rewarding.
Interaction
Lava Life, like most online dating sites, comes with a tiered membership system. Registration is free but as a free member, you get access to limited features. What's awesome is that Lava Life only restricts one feature, which is the possibility to send messages.
Yet, you'll still get plenty of interaction via flirts. Moreover, you'll even be able to reply to emails and instant messages received from premium members.
This means that if you're anything like me and don't like to send the first message, you'll still be able to enjoy unlimited communication with those who have contacted you. If you really like a user, just send a flirt to draw attention and wait for them to contact you.
I really recommend you to do so first, because it's free. Second, because you'll just know whether or not the other member is interested in you.
Certainly, this could be less appealing to men. If you're a bold woman who likes to keep things under control, then it might be better to just subscribe to a full membership.
Profile Quality
Through a thoughtful account verification system, Lava Life ensures the quality of its profiles. Most members are genuine and they are interested in what they say they're interested. The clear differentiation between relationship types makes it easy for users to just select the most appropriate type of dating. Through a smart interface, the site will also display only pertinent results who share your relationship goals.
Scammers are also held at bay through a mandatory email verification system while uploading a profile image is also mandatory.
Live Chat Support
Most online dating sites come with incorporated customer service but Lava Life demonstrates that it knows how to do it better in this field too. The platform boasts a live chat support which is much more reactive than the usual email support.
Just send your questions and concerns to the helpful and friendly team to get instant answers to all your problems and doubts.
Safety
LavaLife.com believes in the authenticity of its members and discourages fake profiles. Fraudsters and scammers are held at bay through profile verification methods that include disclosing your full name and email address, along with a profile image.
This doesn't mean there aren't fake profiles on the site. While they are an occurrence on all online dating sites, finding fake profiles on this website is rather rare.
Besides profile verification, Lava Life also promotes user safety through tools designed to boost security. For instance, if you want to hear your crush's voice, you can just use the Call Me feature which allows you to make anonymous and untraceable phone calls.
Related services also thought to improve safety are the LavaLife Voice, which allows singles to connect via phone, or Lavalife Mobile which allows subscribers to communicate via text messages.
Apart from these services, Lava Life has also implemented a senior-oriented subsidiary site called Lava Life Prime, which boasts a concept similar to Our Time.
App
If you want to stay connected even when you're away from your desktop, know that LavaLife.com comes with an app available for Android and Apple systems.
The app boasts almost all features of the site, is intuitive and easy to use.
Final Thoughts
Undoubtedly, LavaLife.com was one of the most engaging online dating sites I've tried. There is everything here. From hookups to casual dating, to long term relationships and eventual marriage, everything sparkled with friendship.
High quality members and a huge user pool make this site attractive, while almost unlimited communication makes it easy to use the site without spending a dime.
Unique features and the possibility to create multiple profiles with just one account are other things I loved. Then, the possibility to protect your identity while chatting on the phone or sending texts is another feature I truly enjoyed.
Certainly, Lava Life has its flaws, such as the lack of a comprehensive matchmaking system. Browsing profiles and selecting members is time-consuming and sometimes frustrating. Yet, I bet on this site you'll have the time of your life.
Register now or access your account to start looking for the partner and relationship of your dreams.
Source link: hernorm.com