eHarmony is one of the most popular dating sites in the US and the world. With active members in over 190 countries around the globe, the site aims to bring all singles together – and it fulfills its purpose in style.
This dating site is ideated to help singles find their special someone without significant effort. To do this, the platform asks for a wealth of personal information and shows you profiles of people who could be a good match.
While this automatic searching system is controversial, the platform is still responsible for roughly 2% of the new marriages in the US. And this means their system works.
eHarmony.com has been online since 2000 and has attracted thousands of users with its innovative matching tools. But with a host of dating sites out there, how to know if eHarmony is the right one for you?
Here's an unbiased review to help you decide, but before we do that, let's have a quick look.
Get eHarmony 3 Months OFF (Offer Ends November 2020)
If you do decide that eHarmony is right for you, don't forget to click above to claim their limited time offer.
Things To Consider Before Signing Up To eHarmony.com
eHarmony is defined by many as a stellar dating platform. What makes this website stand out is the sophisticated matching algorithm based on the psychological principles of attraction. To achieve this, the platform requires a wealth of personal details and uses a comprehensive personality profile to match you with people who share the same interests.
Yet, this doesn't mean eHarmony is for everyone. This dating site might not be for you if you like to have control over things. That's because there is no option to browse through profiles and choose the ones more attractive to you.
Instead, the platform uses your profile to send you matches, and these are the only persons with whom you may interact.
This platform is also developed exclusively for heterosexual men and women. There is no in-between and if you happen to have a different sexual orientation, this platform may not be the right one for you.
Another thing to consider before subscribing is the quantity of personal information you're willing to share. eHarmony.com does a great job  in keeping personal data safe, but it uses a lot of personal details to find your matches.
If you're not so keen to share private details, you might want to look elsewhere.
Yet, if you don't mind feeling in a comprehensive profile, if you're happy to connect only with those members selected by the platform and you're sexual orientation is heterosexual, then eHarmony is definitely worth a try.
Do you still have doubts? Keep reading to find out more about the pros and cons of this platform, as well as its main specs and features.
What Is eHarmony.com and Is It Worth It?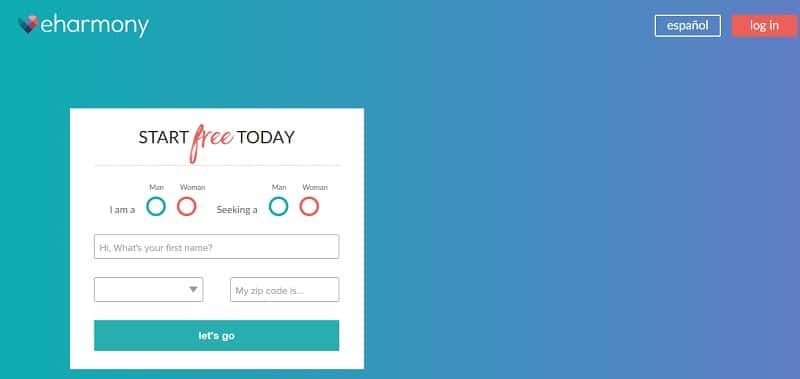 eHarmony.com is a dating platform launched in 2000. Since 2010, the platform broadened its horizons with the launch of a dating app that syncs with your desktop profile. The app allows you to access eHarmony from wherever you are, providing quick access to messages and notifications.
At a first glance, eHarmony may seem similar to the host of dating sites available. But what makes this platform stands out is the innovative dating system that requires users to fill in a detailed profile to then match them with other members.
The main difference between eHarmony and similar sites is the impossibility to search and browse profiles freely. In a way, this takes the dating game to a whole new level, making the process exciting.
And the success of the platform is proved by the number of active members. eHarmony is one of the biggest dating sites in America and is also available in over 190 different countries.
eHarmony is ideal for those looking for long-term commitment and focuses on psychological compatibility. To help singles find their significant other, the platform uses its trademark 29 dimensions, which according to the website are the predictors of the success of a relationship.
According to users, the dimensions really work and many members have found their significant other, got married and started a family thanks to eHarmony.
But like everything else, this dating network comes with pros and cons. Here are the main advantages and drawbacks of this site.
eHarmony.com Advantages
Large community. eHarmony counts thousands of members spanned in over 190 countries. Typically, the platform searches for matches in your area, but the network is also great for international relationships.
Personalized online dating experience. The platform assists you from sign up to dating, shaping itself to your needs rather than the other way around.
Effortless matching system. Completing the profile takes some time, but you'll get a custom list of compatible profiles for you to choose from.
Guided communication. An awesome advantage of eHarmony is that it helps members figure out what to say to their new online crush. This is very helpful particularly for the first-time users who are new to online dating.
Detailed profiles. While all dating platforms ask members to complete their personal profiles, eHarmony excels at it. The user experience and success on the platform depend on the amount of personal information provided.
Matching algorithm. eHarmony focuses on helping heterosexual singles engage in long-term relationships and uses a complex matching algorithm that works surprisingly well.
eHarmony.com Disadvantages
The platform is designed for straight singles and it doesn't have options for members belonging to the LGBT community.
eHarmony is centered around its unique matching system and offers limited searching tools.
​This online dating network has limited free options and is more expensive than most dating sites.
Get eHarmony 3 Months OFF (Offer Ends November 2020)
eHarmony.com Features
eHarmony.com is one of the most popular dating sites in the world. But what makes it famous? Here's an in-depth look at the most common features and specs.
Sign Up & Login
Like all dating platforms, eHarmony requires all users to sign up before using the services. The process is rather lengthy, but it's well worth the effort to complete your profile with the required details.  Although lengthy, the process is fun, though.
The first thing the platform asks when landing on its homepage is your sexual orientation and preference, which can be either man seeking women or woman seeking men. You can change this to a man seeking men or woman seeking women, but most members are straight and you'll have a limited success on the platform if you share different sexual orientations.
You'll also have to enter your first name and postcode, which will be used by the algorithm to find matching profiles.
After inserting your email and creating a password, the signup process will open a step-by-step questionnaire that contains basic questions about your age and location; you can also answer an optional 150-question personality questionnaire that allows the algorithm to find and display better matches.
Fun to take and easy to answer thanks to the 7-point scale answer system, the questionnaire is lengthy and it takes about half an hour to complete. However, answering all questions is essential if you want to experience eHarmony to the fullest.
A thing some users may dislike is the number of personal details you'll have to provide, including information about your income and occupation, needs, desires, and beliefs, apart from providing detailed information of what you're looking for in a partner.
Once you've answered all questions, the platform prompts you to upload a profile picture, then it will take you to your profile where you'll be able to check the first matches.
Logging in is easy and straightforward. Instead of using a username, the platform asks for your email and password as login details. This is very useful as you won't have to memorize and remember a username, but only the password.
Search Options
eHarmony stands out when it comes to search and browsing options. But not because of their versatility. In fact, in the free version, the platform has zero versatility and you'll only be able to interact with those members that have been selected for you based on the answers provided in the questionnaire.
In fact, this is why it's essential to answer all the questions during the signup phase. Without these answers, the platform just sends random matches that may or may not turn into something serious.
Although the search options are limited (not to say inexistent), eHarmony is popular exactly for this. You won't have to browse through thousand profiles to find someone who's worth sending a message. Instead, let the platform do the trick.
To be honest, this is the feature I like best; yet, some users may find the lack of search options frustrating.
Paying members have some more flexibility when it comes to browsing through profiles thanks to the What If game. However, the subscription plans are quite expensive.
Interaction
The matching algorithm ideated by the platform is the trademark of eHarmony. Based on the psychological principles, the site recommends singles to one another. This feature is particularly useful for those who just got into online dating and are overwhelmed by the traditional sites.
Yet, as mentioned above, you'll have to fill in your profile for the system to work.
When it comes to interactions, eHarmony makes a clear difference between free members and paid subscribers.
Like most dating sites, free members are allowed a limited interaction, which consists of sending smiles to the profiles they like. Free members can only browse the matches suggested by the platform and only gain access to all the features of the website in the Free Communication Weekends offered by the platform throughout the year.
Paid subscribers have some more flexibility when it comes to searching members outside their stated preference. A paid membership also provides you with access to all features of the site, including sending and receiving messages.
A nice perk is that you can even send pre-written questions to break the ice in case you don't know how to engage with a match. This guided communication route is ideal for newbies and for those too shy to start a conversation.
Obviously, paid membership is where all the fun happens. The platform's fees are slightly higher than those of the competition, yet most members claim the prices are justified.
Dimensions – Compatibility Matching System
The feature that counter-distinguishes eHarmony from the other dating networks is the 29 dimensions of compatibility. These dimensions define the matching algorithm that takes into account details such as your emotional temperament and social style, values and beliefs, and relationship skills.
These are the most important aspects that define compatibility between partners, and all these details ultimately define attraction.
The dimensions also define your compatibility rating with the suggested matches. These ratings are visible on the match's profile and show both the similarities and the differences. For instance, you may be 99% compatible in terms of lifestyle but only 20% compatible in terms of beliefs.
According to the platform, these ratings help users decide whether it's worth investing time and effort in contacting or interacting with a match.
Customized User Experience
Another awesome feature is the customized user experience. The website gives you a personal dating space that is centered around you. Every detail filled in your profile helps the algorithm find and present relevant members.
This makes it less of a drama that you can't actually search and browse members on your own.
The platform usually sends around 10 handpicked matches per day. What If game allows you to view 30 more profiles per day of members who don't correspond exactly to your profile, but this option is only available to paid members.
Although this seems to limit your options, the system works because it determines members to consider more thoroughly the profiles they see. Moreover, this also determines members who have engaged in a conversation to pay more attention to the other.
By encouraging communication, the platform succeeds in helping singles find someone to date in real life.
Attractive Interface
Another feature that makes eHarmony stand out is the interface. This website is attractive, from profile display to dashboard and user account.
As far as your profile is concerned, eHarmony focuses on creating a visually-pleasing display of your goals, lifestyle, and personality. Your profile won't look like a resume but rather like a stylish collage of your interests.
Your account is as attractive as the profile in terms of design and ease of use. The dashboard displays your recent activity, divided into sections, as well as information about members who visited your profile, including profile and photo updates.
This section actually creates your private online dating space and documents your history on the site.
Besides the dashboard, you'll also get access to the sections Matches and Inbox, where you can check the matches of the day and the messages or notifications you received.
Secure Call
The Secure Call is another awesome feature of eHarmony. Thought for the safety of the users, this feature allows members to make private calls to their matches. In other words, you can have a one-on-one call with your online crush without revealing your real phone number.
The best part is that you can register and use any phone you want for this purpose, either landline or mobile.
When it comes to safety, this is an outstanding feature as it helps you protect your identity until you completely trust your match.
Final Thoughts
eHarmony is an outstanding dating network that bases its success on a different approach. Intending to take the burden of searching and matching off the members' shoulders, the platform does everything for you.
Filling in the profile is lengthy but well worth it, the matching system does an excellent job of finding compatible members and you'll just have to select your favorites and start a conversation.
All the perks, such as the What If quiz and the Hidden Match feature allow you to personalize your user experience. In fact, the whole dating game is centered on you and this is quite unique to eHarmony.com.
The only true drawback of this platform is the membership plan fees. As a free member, you have limited access to features and functionalities. As it's easy to imagine, all the fun begins after subscription to a paid plan, which is costly compared to the competition. Yet, there are several plans to choose from that can match your budget and intentions.
All in all, eHarmony is well worth it. Yes, you might have to pay more to use the services but you'll also have higher chances to find someone interested in a long-term relationship. In my opinion, this is a priceless advantage and I definitely recommend giving this platform a chance.
Click here to go to the eHarmony website and give it a try.
Source link: hernorm.com